Moroccan food, and tagine stews in particular, now seem to be a regular feature on dinner tables. What's not to like about that combination of spices, nuts, dried apricots and succulent meat! And such fantastic cuisine can certainly pair well with fantastic wine. We made our tagine with chicken (rather than lamb, which requires a different approach with the wine – try a southern Rhone red or a Montepulciano d'Abruzzo). So, a rich, aromatic white was the choice. And what could be better than a Viognier.
Today's Wine Pairing: Viognier x Chicken tagine
This white grape is now grown around the world, but some of its finest expressions are still found in its Northern Rhone home. The most famous, and greatest Viogniers come from the Condrieu appellation at the top of the Rhone Valley. These are exquisite wines, but tend to be very expensive. Viognier is temperamental grape and needs a very careful hand at the tiller to get the best out of it.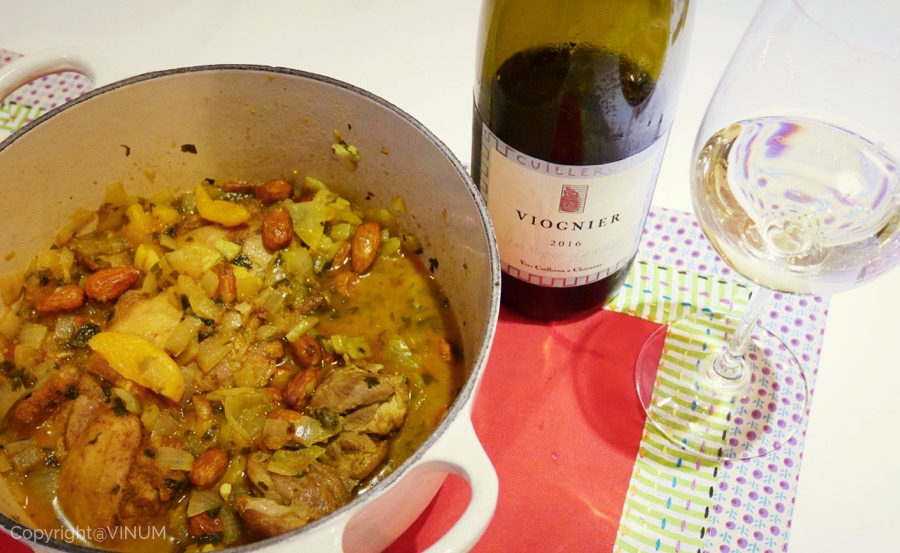 With that in mind, we chose a Viognier from a top Condrieu producer. Yves Cuilleron makes his Viognier Les Vignes d'a Cote from vines planted in Chavanay, just south of Condrieu. And it is a stunning example, absolutely textbook Viognier: flavours of peach, apricot and violet notes, with a hint of spice. It has weight and richness but it is also restrained and so elegant. Finally, there is just a touch of vanilla from oak on the finish. And for a third of the price of a Condrieu!
As you might imagine, the richness of the wine harmonises with the rich flavours in the tagine, and the stone fruits matched perfectly with the dried apricots, allowing the delicate floral notes to sing through. It really was an exquisite pairing.