What on earth is a Soßklopse?! Well, it's a German meatball in a creamed sauce. And it's delicious. I know, German cuisine is not usually high on the list of gastronomic delights, but this dish is exactly what can be so appealing about German food: it's warming, comforting and deliciously savoury.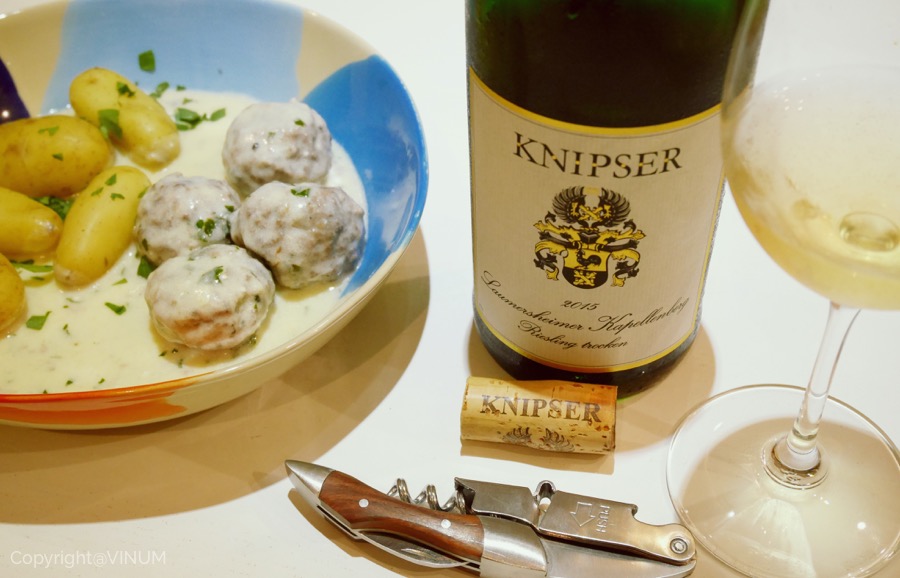 Oh, and it's pretty easy to make. Here's a recipe in case you're not familiar with the dish. Our Soßklopse (properly called a Königsberger Klopse) has a good dose of anchovies in the meatballs and capers in the creamy sauce. It's a wonderful combination of juicy meat, saltiness and rich cream.
Well, given that German wines are having something of a renaissance, it would be a shame not to pair our Soßklopse with one of Germany's delicious Rieslings.
Today's Wine Pairing: Pflaz Riesling x Soßklopse
As we keep banging on about, Riesling truly is one of the best food wines around – with both meat and fish. It works so well because the high acidity cuts through the fat and cream and is more than a match for the sharp saltiness of the capers and anchovies. What's more, a top quality German Riesling from a warm vintage will have a nice weight and depth of flavour that can handle the richness of the dish.